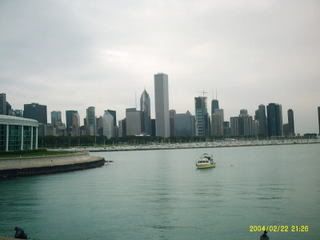 1) Rule #1 of the Beeson Pastor Program is "don't get behind". Rule #2 is "if you violate Rule #2 you'll pay by not getting to sleep for two weeks until your not behind anymore". We are dangerously close to violating Rule #1 here in cubicle 28, so pardon me if there are more mistakes and less information provided today (if that's possible) than usual.
2) If you wondered why no updates were provided on the great "Bucher Midwestern Odyssey", know that a combination of a lack of wireless internet access, time crunches, and exhaustion conspired against such endeavors. Here's a brief re-cap of the last four days and 940 miles.
3) Day 1 (last Thursday) found us taking Max out of school early and making the first leg of our trip to Indianapolis. There we basically just swam, watched some TV, and ate pizza. Oh, and listened for the first, but not the last (not even close) time the adventure of "Hank the Cowdog and the Watermelon Patch". Parents, if you have to travel a long distance with young children, and you're forced to listen to books on tape to pass the time, you could do a lot worse than "Hank the Cowdog" audio book. Found myself chuckling even after the 1,674th time listening to Hank's take on the world and all it contains.
Had also forgotten what a big deal it was as a kid to stay at a hotel with an indoor swimming pool. It was like we had gone to Disney World, Cedar Point, and the Westgate Bowling Center all at the same time. I know that with Max being 7, the days where we can pass off a night at a Wingate Inn as being a great adventure are limited, but we'll just take what we can get right now.
4) Day 2 found us in the Windy City, the city of big shoulders, Chicago at one of our favorite haunts, The Field Museum of Natural History. Dinosaurs, mummies, and much more were there for our exploration and discovery. And thank the boys' Aunt Melissa, who bought them a COSI membership a couple of years ago (which we have since renewed) we were able to get in for FREE (can't beat "free" with a stick). Just a great day! The boys also got to feed and chase seagulls in the parking lot (birds so hungry that I was a little worried they'd try and devour Elijah, seen here dispersing seagulls with vim and vigor), so you don't get a much better day than that.
Next, we headed out to Promontory Point Park for the wedding rehearsal of CJ (Aimee's cousin) and Jill. I conducted the wedding based solely on the fact that I am family, and just irreverant to help create an unconventional ceremony between two people who have more creativity in each of their little pinkies than I have in my entire body. Thus, I conducted a ceremony where there were the bride and groom each had their own mixed-gendered wedding parties, chose no best man or maid of honor, conducted a "blending of the sands" ritual to replace the whole unity candle gig, and wrote their own vows (which ended up being very touching, actually). Such is the case when the bride and groom are artists, animators, editors, and urbanite film makers. Took me a little out of my comfort zone, but let's be honest... a wedding is a wedding is a wedding. Do enough of them, and after awhile not too much throws you.
The boys, quite frankly, couldn't have cared less, and spent their time during the rehearsal climbing on the rocks that had dumped all along the shore of the peninsula to prevent erosion. Unfortunately, the day's events had so worn out my kids, that by the time we arrived at the rehearsal dinner, which was in the townhouse of CJ's parents, Sharon and Frank Dugan, they were spent. This made for an experience of what my wife described as being akin to being in the "seventh circle of hell"... so we cut our losses, left early so that everyone else could have a good time, and let our kids could rest up for another great day. They were asleep before we hit the freeway toward our hotel (The Carleton of Oak Park, which was, well, dry. That's was pretty much it's best feature... it protected us from the elements).
5) Day #3 was pretty amazing all around. We slept in and then let the boys watch some cartoons while Aimee negotiated this computer and the crappy wireless internet service at the Carleton (remember, if your basic desire out of a hotel is that it protects you from the elements... stay at the Carleton!). After a breakfast of Dunkin Donuts and milk, we jetted off to the Museum of Science and Industry of Chicago, which ended up far exceeding our expectations. Not only did it have a million things the kids could do and touch, the food court was good without gouging every last cent out of us, AND it was located close enough to the cite of the wedding that we could park one place that day (for free... no small feat in Chicago) and just do some walking.
And, once again, Aunt Melissa's COSI membership came through again. Over $160 of entrance fees taken care of... halleluia!
After a great day at the museum, we walked though the rain to what was supposed to be an outdoor wedding at Promontory Park. Made no difference though... the service was moved inside, and a good time was had by all. Before the final prayer, the sun even came out so that the pre-reception to the reception could take place (don't ask me to explain... all I know is that the cheese was wicked good). The good weather made it possible for the boys to spend more time on the rocks, now with their cousin Haley (thirteen years old, and growing up fast), and for us to catch up with Aimee's sister (Michelle, a nurse anesthetist in New Bern, North Carolina, and Jeff, a professor who teaches stuff to future engineers that I can't begin to understand, let alone explain). Jill and CJ beamed the entire service. Now they're in Costa Rica "seeing the rainforest before it disappears". If they end up making a film of the experience, I'd pay any amount of money to see it. It'll be that good!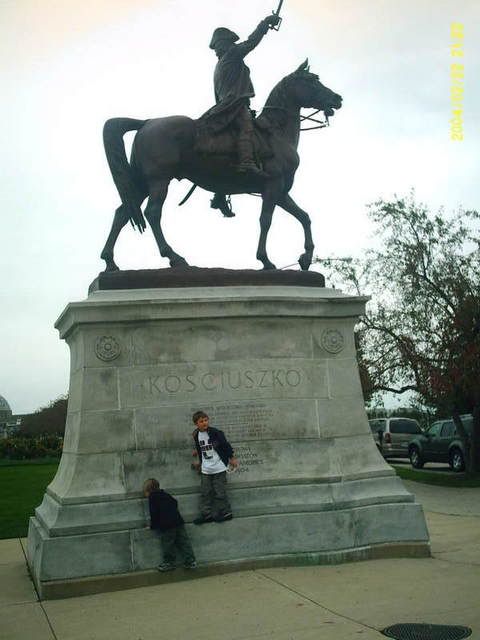 6) We then made the three-hour trek to Goshen, Indiana, where, out of money, we took advantage of the hospitality of Joe and Amy Walters, good friends from what is becoming the not-so-recent past. Now, normally, if we go to Goshen, we call all the friends, get out and see people, generally blow whatever schedule we had, and move a million-miles an hour. But we'd been on the road for three days, walked all over Chicago that day, and were just plain beat. Since we got in so late, we just hunkered down with over pizza and good company while our boys hung out with their buddies.
Of course, there are people reading this right now, mad as a hornet that we didn't call or stop by. Mea culpa. Three days in a Kia Sedona with three kids just plain did us in, and besides... Amy and Joe usually never see us when we come to town cause we're always with someone else. It was good to catch up and we promise we'll get back soon to see everyone else!
(Want to take a moment to let you know that this blog post is sponsored by Doritos Habanero Tortilla Chips.... so good that now Habanero gunk is covering my keyboard and there's a small fire where my mouth used to be. Yum! Now you know what to get me for Christmas... that or money. You could just send money.)
7) Day #4 saw us rise up in the morning to see Joe, Amy and the family off. Amy is the Christian Ed Director at Faith UMC in Elkhart, Indiana, and had to get to work early. Joe was off to Carthage, Missouri for an engineering conference (great choice of location guys.... I hear Carthage is beautiful in October), and thus was off to catch a flight out of O'Hare. We gathered ourselves, shoveled out the van, and hit the road for our fourth destination: Lima, Ohio. We arrived at lunch time at Aimee's parents, so the two older boys and I took Bryant (Aimee's dad) out to Skyline Chili for some killer Cincinnati-style chili (the boys ate hot dogs) while Aimee and Eli took Carol out for lunch and some time of semi-quiet conversation.
You might recall from last week's post that Carol is apparently facing the re-occurance of liver cancer, which we thought she had beaten two years ago. Right now, biopsies still haven't come back, so we don't know what's going to happen next, but we keep praying (and we ask you to please do the same). Anyhow, just being there was healing for everyone, and we had a nice, long visit, which is difficult to do given our living situation right now.
8) We then made our way to Shawnee UMC for this year's version of "Fall Fest". Yours truly, as he has the past two years, took his position behind the steering wheel of the "Shawnee Express", a small train-like looking thing that is really just a glorified lawnmower (which, by the way, isn't properly ventilated inside a fiberglass shell... head is still swimming from all the carbon monoxide). The weather was beautiful. I don't know how many people were there, but it was a lot (hundreds and hundreds and hundreds). I love that we offer the one carnival-esque experience in town where no money is asked for, or expected. The rides are free. The food is free. The games are free. People just come and have a good time. And don't think a family or two won't end up at the church because of it over the next couple of weeks. It's just a magic experience.
What's more, it was great to see so many people. We miss our church family, and hearing so many of you ask how we are doing, that you read this crazy blog, and miss us too keeps us going. We can't wait to get back home!
9) Finally, beat, broke, and dead tired, after some fish at Captain D's in Wapak, we left the Lima area about 9pm last night. We had a little scare in Cincinnati when Xavier complained that he couldn't take deep breaths. Xavie is asthmatic, and last night we witnessed for the first time a real asthma attack, which was more than a little frightening. Fortunately, he was able to relax, fall asleep, and we made excellent time (I won't tell you how long it took to get home.... let's just say we made pretty good time). We've never needed an inhaler or anything like that before, but appears that day has arrived. Thankfully, Xave has an appointment with his pulmonologist (the ever-popular Dr. Votee) while I am in London, so we'll be better prepared. We're just thankful that our little boy is feeling better today, and turning cartwheels in our front yard even as we speak.
10) Oh... can't forget. OSU 38 Iowa 17. Given that Auburn once again escaped with a victory over a mediocre South Carolina squad (I'm not sure they would be much more than a .500 team in the Big Ten this year) and USC was one pass away from being upset by Washington State (at what point does the rest of the Pac Ten get downgraded to Division I-AA status?), I'll say this one more time: The true national championship is going to be played in November, cause the best two teams in the country are in the Big Ten. All other "contenders" are just little more than an excuse for a bunch of people "waiting until next year" to tailgate. Thems the facts!